From Peru to Your Cup
Our most popular single origin coffee and our longest, continuously purchased cooperatively grown coffee. Our Peru Cajamarca Andes Gold is a Fairtrade Certified and sourced from 100% women-owned farms. Because of our long term relationship we are the only roaster to offer this coffee sourced exclusively from women farmers. It is a full bodied coffee with a sweet taste and a "baker's chocolate" aroma. If ever there was a coffee with an ideal coffee flavor – this is it. If you are thinking of trying our coffee for the first time or our getting coffee for a friend, then you can't go wrong here. It's everything you dream about in a great coffee.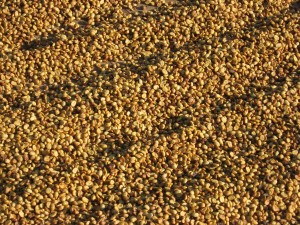 The Region
"Andes Gold" is a special selection of coffees grown in the northern highlands of Cajamarca in Peru. It is about six hours North of the Coastal city of Chiclayo, Peru. Because the area is very desolate and remote, there is very little commercial activity beyond coffee and sustenance harvesting of tropical fruit and herbs. About 100 miles inland from the Pacific Coast, there is Andes Mountain Jungle, at elevation between 110 and 1500 meters above sea level, that separates Peru from Ecuador. It is here in these mountains, that our organic coffee is grown. This area is without modern technology. Most villages, even one half hour from the main North / South highway, have only gravel roads, no electricity or telephone communication systems. But it is here, in this poorest of areas, that the farmers are working the hardest, with the most cooperation and commitment, we have been able to bring technological assistance to train them in active organic growing practices, to improve their harvesting, processing and drying methods, so their coffee will meet our quality standards.
The people are from a very traditional Inca Indian culture, very proud of their heritage, and proud to pass that heritage on their children. It is here in the Penachi region that had the first "Organic Coffee Festival", and the crowning of the "Queen of Cafe Organico!". Because of improvements and commitment to the quality of their coffee, they are taking steps to begin to bring improvement to their lives and communities. The growers group has grown to nearly 300 certified organic farms in the Penachi region.
More Information: